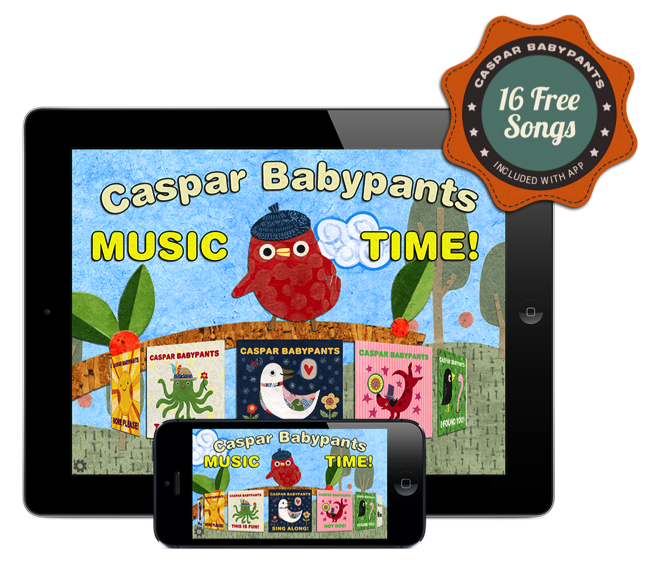 Music Time is a fun and easy way for kids to explore their hidden musical talents while playing along with the songs of Caspar Babypants. Music Time is a music jukebox that features two smart instruments that change their notes along with the song being played, meaning your child will always be in key! There's also a percussion instrument included for when your child wants to sharpen their rhythm skills. Music Time is really a great way to help your children develop their ear and sense of rhythm as they tap and strum to any of the 155 tracks currently available from Caspar Babypants.

Music Time comes loaded with two songs from each available Caspar Babypants album for a total of twelve included songs. It also works with the Caspar Babypants albums you already own, or you can purchase more on iTunes to expand the library of songs that Music Time can play.

For kids (and parents!) that already play a real instrument, there's a mode that teaches the chord changes of the songs so they can play along on their instrument of choice. For the trickier parts you can even slow the music down, plus the app also shows the lyrics so you can really learn the songs inside and out.
About Caspar Babypants
Caspar Babypants is Chris Ballew from the rock band the Presidents of the United States of America. When he's not spending his time crafting excellent rock and roll music, he's busy making high quality, intelligent, simple acoustic music for kids and their parents to enjoy together. His albums are a mix of fun upbeat original songs, re-imagined classics, and always a few for bed time. For more information, check out
babypantsmusic.com
- you'll find tons of cool videos to watch, concert dates, learn about the stories behind his songs and much more.
The artwork featured in this app and on all of Caspar Babypants albums is done by the talented artist Kate Endle who has been illustrating and collaging professionally for over twenty years. To see more of her wonderful work including children's books, original art, prints, greeting cards, and more, check out her Etsy page at
www.etsy.com/shop/kateendle
.
---
Check out some music!

The full library of Caspar Babypants music is available on but here's a sampling of the music that comes free in the purchase of Music Time!